Hello my favorite little munchkins. How are you all doing? I am doing okay since it is SATURDAY and I mean THE WEEKEND IS THE BEST THING IN THE WORLD AS WE CAN SLEEP IN FINALLY. Anyways why don't we just jump right into this post because I bet you are all excited.
---
NARRATOR INTERVIEW:
Who are your "accent inspirations"?
When it comes to other VOs who are good at accents who are good coaches, I think Amy Walker and Joel Froomkin are the best you can probably find. Joel is also an excellent narrator. When I try to channel accents from other personalities, I think about Gabriel Byrne and Conor McGregor for Irish. Monty Python was a huge part of my childhood, so their accents informed me a lot for English accents.
2. How did you decide how each character should sound in this title?
For this title, there was a base of generally polite small town vibes, some with southern accents. I didn't use a lot of my gruff voices, or even my more epic voices. The two narrative voices are quite different from each other, but they both blend in with the rest of the town. Elron is gentle, wise, whispery. Michelle is cordial, polite, but unlike the rest of the town she has an edge that can come out when she's pissed or focused.
3. What types of things are harmful to your voice?
Too much food, smoke, sugar.
4.Has anyone ever recognized you from your voice?
Hah, that'll be the day. 
5.Have there been any characters that you really connected with?
Plenty. There's almost always something in each character that I can relate with. If not, I can't grab onto anything and play from a real place. This happens occasionally with poor character writing, and unfortunately I can hear it when I'm lost with a character. I always do my best, but there just isn't anything there to work with, I just have to wing it and hope it turns out ok.
6.If you had the power to time travel, would you use it? If yes, when and where would you go?
Yes, I would go back about 10 years and get my shit together quicker XD
7.How does audiobook narration differ from other types of voiceover work you've done?
Audio book narration is much more satisfying than the little bit of voiceover work I've done in the past. So many more roles to play, so much more experimenting with audio, I get to tell a whole story, and it's a real challenge. I've only done ads other than audio books, though. I'm sure I would love playing characters in animation and video games.
8.Do you read reviews for your audiobooks?
More than I care to admit. They're encouraging, and occasionally hilarious.
9.If so, which ones stand out to you most, positive or negative?
Negative. There's more to learn from a negative review. It's hard to know what to improve when you get compliments. But positive reviews just feel better XD
10.What type of the review comments do you find most constructive?
Comments about the narration at all! Even long reviews talk mainly about the book itself, and offer a cursory comment about the narrator, if anything at all. I'd like to see reviews dig more into the specifics of the narration, including the characters.

Author: N.E. Conneely
Narrator: Jeff Hays, Soundbooth Theater
Series: A Witch's Path, Book 1
Length: 7 hours 14 minutes
Publisher: N.E. Conneely
Released: Feb. 11, 2015
Genre: Paranormal, Supernatural
Most witches don't work for police departments, but Michelle isn't your average witch. She's clanless, looking for a wizard who isn't offended by her lack of family connections, and in danger of losing her job if she can't find the escaped trolls before they start eating the local residents.
Trolls, angry police, and misbehaving spells are the least of her problems. Statues attacking homeowners might be problematic for your average witch, but to Michelle it's another day at the office. Her real concern is the wizard suddenly interested in dating her and an old elf set on pestering her. When her happy family is rocked by a long kept secret her stable life falls apart faster than she can pick up the pieces.


N.E. Conneely lives in northern Georgia with her dog and a mountain of books. They sweat through the summer and freeze through the winter, and life as they know it comes to an end when so much as a single snowflake falls out of the sky. For fun, N.E. plays with her dog, reads, knits, crochets, paints, and does tie-dyeing and origami. She makes a great pizza and is currently negotiating with her husband about raising sea monkeys and growing a vegetable garden.

Jeff Hays has made a name for himself in the audio book world by creating immersive experiences out of his productions. His versatility and authenticity in voicing characters, expressive low-impact narration, and dedication to offering the highest quality audio possible has earned him a loyal following of listeners. Having been fascinated with sound since he can remember, Jeff takes his background of composing and producing music, and his continual consumption of the avalanche of fictional media we all experience in these modern times, and uses it to inform his style of story telling in the audiobook realm.

And now, having produced more than 80 audio books and perfecting his craft, using the namesake of his live streaming narration show, the Soundbooth Theater shingle has been hung. Soundbooth Theater is dedicated to applying Jeff's production methods to new audio books with other budding narrator talent, and expanding his scope from audio books, to voicing and producing animation.

I do believe that this book had potential to be amazing yet there was some factors that held it back.

The writing.

The writing feel very much flat and it was hard to get a strong grasp of the book based on the writing style.
It wasn't set in a right pace in my opinion as it went way too fast at moments and at other moments it went way too slow which kept on making my mind go 1000 mph.

The main character.

The main character feel very bland on my part.

There was moments when I question what she was doing and some moments just didn't feel correct.

She doesn't show emotion when a big event that happens in the book happens which bothers me as many humane people should be able to feel emotion in that situation but in this case it felt like she just brushed it off or was in denial.

However, there was also things that I very much liked about this book.

I loved the plot.

I of course felt like it could've been more developed and fleshed out but this is apart of a series so I can not determine what happens next.
Anyways the plot was a great idea and at least for 92% of the book was very enjoyable.

The secondary characters.

OH MY GOSH. THEY WERE SO FUN TO READ ABOUT AND I JUST PERSONALLY LOVED THEM BECAUSE THEY ADDED MORE TO THE BOOK AND MADE ME FEEL EMOTIONS AND I HIGHLY SUGGEST TO READ THIS BOOK JUST FOR THEM.

Mystical.

There was so many mystical things and characters as you know it is a fantasy book but I loved how this book went and it very much made me feel like I was watching a movie.

World-building.

I feel like there could've been more world-building done but I still non the less enjoyed this book.
I really liked this book but by no means was it my favorite. It had potential to do better but it was still okay.
I give this book 3.5/5 stars. 
---
I received this audiobook as part of my participation in a blog tour with Audiobookworm Promotions. The tour is being sponsored by Jeff Hays. The gifting of this audiobook did not affect my opinion of it.
---


A Witch's Path Series Giveaway: 3-Month Audible Membership

Book 1
Jan. 28th:
Dab of Darkness Audiobook Reviews
Jazzy Book Reviews
TheHufflepuffNerdette
T's Stuff
Jan. 29th:
Bean's Bookshelf and Coffee Break
Turning Another Page
Booktalk with Eileen
Jan. 30th:
Chapter Break
Bookworms Corner
Audiobook Romance
Jan. 31st:
Working Mommy Journal
Notes from 'Round the Bend
Feb. 1st:
Lilly's Book World
Two Girls and a Book
Feb. 2nd:
Bound 4 Escape
Holed Up In A Book
Feb. 3rd:
The Book Addict's Reviews
Up 'Til Dawn Book Blog
Book 2
Feb. 4th:
Bean's Bookshelf and Coffee Break
Feb. 5th:
Dab of Darkness Audiobook Reviews
Turning Another Page
T's Stuff
Feb. 6th:
Chapter Break
Bookworms Corner
Audiobook Romance
Feb. 7th:
Lilly's Book World
Feb. 8th:
Working Mommy Journal
Jazzy Book Reviews
Booktalk with Eileen
Feb. 9th:
Bound 4 Escape
Holed Up In A Book
Feb. 10th:
The Book Addict's Reviews
Two Girls and a Book
Book 3
Feb. 11th:
Dab of Darkness Audiobook Reviews
T's Stuff
Feb. 12th:
Bean's Bookshelf and Coffee Break
Turning Another Page
Feb. 13th:
Chapter Break
Audiobook Romance
Feb. 14th:
Bookworms Corner
Lilly's Book World
Feb. 15th:
Working Mommy Journal
Booktalk with Eileen
Feb. 16th:
Bound 4 Escape
Jazzy Book Reviews
Holed Up In A Book
Feb. 17th:
The Book Addict's Reviews
Two Girls and a Book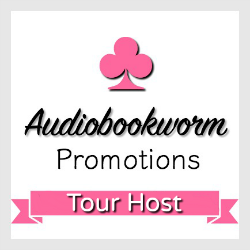 ➜Sign up as a host here
---